Magnetic Immunoassay Detection System ('MIDS')
Bio-AMD's planned Generic PoC Magnetic Immunoassay Detection System ('MIDS'), is expected to have a significantly enhanced sensitivity based on magnetic nano-particle manipulation and detection, capable of interpreting results on a quantitative basis. Key features include:
Fully quantitative measurement
Double detection system (magnetic & optical)
Lateral flow & nano-fluidic strips
Sub-micron magnetic particles
Tolerance free system
Wide dynamic range
Very sensitive
Rapid assay
Digital output
Low power, handheld capability
An independent Proof of Market study published in May 2015 suggests that a strong opportunity exists to service a gap in the market by the application of MIDS to cardiac marker testing; as this would significantly accelerate the triage, diagnosis, treatment and disposition of patients presenting with MI symptoms.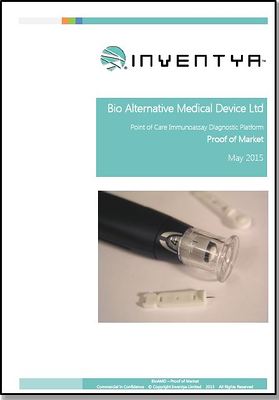 To obtain a copy of the above report (redacted) please contact us
The MIDS POC platform, in early stage development, incorporates what we believe to be a novel microfluidic strip design (including multi-chamber), combining magnetic nanoparticle manipulation and a double detection technique using bespoke Hall Effect sensors coupled with the unique Bio-AMD optical sensor. It is anticipated that the system can increase significantly the sensitivity and accuracy of the test result, bringing laboratory quality results to the POC setting. We are not aware that this method is being used in products currently being offered in the market, or in development.
We believe that the Bio-AMD MIDS technology has considerable potential to deliver the next generation of POC testing. This would encompass sample collection, pre-treatment, analyte specific reaction, signal production, signal reaction and final result: 'from sample to result in one step'.
The MIDS platform should be able to extract more information, because of its sensitivity and accuracy, out of existing assays. These existing displacement and competitive assays already use coated magnetic nanoparticles. They provide sensitive results in laboratory environment but this comes at a relatively high cost and is time consuming. Bio-AMD's MIDS technology is expected to offer the same, if not better, sensitivity across a range of tests in hand-held Point of Care devices, faster and in a more cost effective way.
The cardiac troponins, in particular, have become the cardiac markers of choice for patients with suspected Acute Coronary Syndrome, cardiac troponin I or T being central to the definition of acute myocardial infarction. Clinical chemistry developments are now aiming at creating more sensitive troponin assays, particularly applicable to MIDS, that can be used to definitively rule in / out a heart attack event. Current protocol suggests additional myoglobin and/or CK-MB repeated testing to be carried out in a laboratory on expensive machinery, inevitably involving long waiting times that take up valuable hospital resources. MIDS is expected to enable highly sensitive troponin assays at the patient's bedside, within minutes. MIDS is also expected to be able to simultaneously carry out a similarly accurate and convenient complementary panel of cardiac tests alongside troponin on a single strip, including other markers such as CK-MB.
Because of its accuracy and sensitivity, MIDS, as applied to cardiac marker detection, may well be able to predict the likelihood of re-infarction post initial early symptoms, or infarction in otherwise asymptomatic patients in high risk groups. Prediction of infarction risk, stratification of that risk and definitive diagnosis is a major issue for hospitals, as they need to prioritise treatment and manage the costs of treating heart attack patients.
We plan to initially develop the system design using the critical marker for cardiac myocardial infarction, troponin I (cTnI). Our ultimate aim is to commercialize a PoC system, using different strips for different tests, aimed at the multiple cardiac marker testing market currently estimated globally to be increasing to US $1.4 billion by 2017. We also envisage that the technology can be extended into test areas such as oncology, infectious disease, drugs of abuse and into new potential high growth areas such as companion diagnostics.
Our design represents an important breakthrough in the PoC industry by quantifying the intensity and behaviour of magnetic markers on the diagnostics strip. The ability to perform quantitative measurement in a PoC device is a critical milestone. It opens up the possibility of highly efficiently diagnosing and treating a whole new range of conditions; rapid and early screening of cardiac markers, cancer markers, infectious diseases and quantitative control of drug regimen.